Surf's Up
---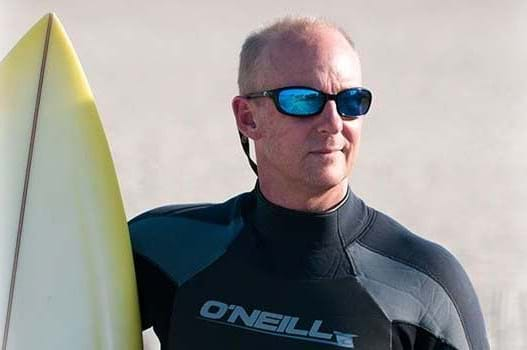 You may not think of surfing when it comes to bathroom showers, but KBRS founder Tommy Davis did just that. KBRS was originally in the business of remodeling kitchens and baths. Unhappy with the inferior, leak-prone shower pans available at the time, he engineered, and later patented, a process for manufacturing rock-solid, Surface-Ready custom shower bases by applying his knowledge of shaping surfboards. Today, using advanced composite materials, KBRS takes the solid construction employed in professional surfboard manufacturing and then applies its own advanced processes to make every KBRS Shower System component exceptionally durable, easy-to-install, 100% waterproof and ready to be finished with any decorative shower surface imaginable.
A History of Innovation
---
Davis laid the groundwork of his experience after 27 years in a family owned business that distributed DuPont Corian products and Kohler plumbing fixtures. After the sale of the family business, Davis started a kitchen & bath remodeling company. After experiencing the rising demand for larger more custom shaped shower pans, he embarked on a venture to create a superior-quality shower pan, and a manufacturing system that was capable of mass-producing these shower pans to any shape, any size with any drain location.
Not a person that was willing to compromise on quality, Davis set in place the goal of designing, engineering and manufacturing custom shower pans to higher standards than were in the industry at that time. The KBRS Tile-Basin® product line, along with all other KBRS Shower System components, meet or exceed current industry standards. Davis has been designing and engineering innovative quality shower products for KBRS and continues to serve as the company's President and CEO to this day.
Hard Core Day-in, Day-out
---
KBRS Shower System components are built with "Hard Core" in mind at all times. From our product materials to our people, we appreciate the passion, strength and commitment needed to be the best. To us, "Hard Core" is more than a tag line, it is a way of life. What started out with Tommy's passion for surfing, Hard Core is now the beacon to homeowners, installers, builders and architects who are not only passionate about providing the very best solution when it comes to home water removal management, but also passionate about pushing the limits on life. At KBRS, we live and work "Hard Core".